LED Rods Electric Menorah - Silver
Secure Checkout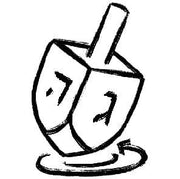 Easy Returns
Quick Shipping
Description

This LED Rods Electric Menorah bring your Hanukkah an artistic and chic Look. You can light each rod per day of the 8 days!

9"L x 7"H x 2.75"D

It has 3 lighting settings: traditional lighting or flashing options.
Small and sleek electric menorah
This is the perfect menorah to put in your window or to give as a gift to someone in a retirement home where real candles are not allowed. It's very easy to use and adding a new light each night is easy. I highly recommend it!
Small but sweet
I would have liked for it to be bigger, but I love the design.
Love the design
I love this Hanukkia but wish it were bigger. I love the design ! I was disappointed when you were first out of stock, so when you got them back, I ordered quickly. It's pretty and it works well. I bought them for my children and myself. They all said them same thing…this is nice but I wish it were bigger. But we all enjoyed it.