Joseph Had a Little Overcoat - FREE BOOK WITH ORDER
Secure Checkout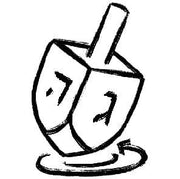 Easy Returns
Quick Shipping
Description

Joseph had a little overcoat, but it was full of holes—just like this book! When Joseph's coat got too old and shabby, he made it into a jacket. But what did he make it into after that? And after that?

As children turn the pages of this book, they can use the die-cut holes to guess what Joseph will be making next from his amazing overcoat, while they laugh at the bold, cheerful artwork and learn that you can always make something, even out of nothing.

To celebrate the Hanukkah season, we've teamed up with PJ Library to send select customers a complimentary copy of Caldecott-winning book Joseph Had a Little Overcoat, so you may get an extra present with your order! PJ Library sends free books to families raising Jewish children every month. To sign up or learn more, go to pjlibrary.org/moderntribe
More about ModernTribe
Items exclusive to ModernTribe!
Joseph book
Never received book with my order
Joseph Had a Little Overcoat
My friend's nine-year old read it to his 5 year-old brother. They both loved it and as they shared the story they tried to guess what would happen to the overcoat before turning each page.. It's a great story. Thanks for including it with my order. Jeanruie
Joseph Had a Little Overcoat
We enjoyed the book, but was more impressed that it was free with our order and that Modern Tribe is part of a library program to provide Jewish books to Jewish children, to help maintain our culture with the next generation.
Perfect for kids!
Loved the free book with our order. The kids want to read it all the time now!
Chanukah Tic Tac Toe
Great game for my grandsons to play at Chanukah . The colorful pieces have Happy Faces in the shape of menorahs & dreidels! They'll love the challenge!