Hug-It-Out, a Lil Haggadah for Kids
Secure Checkout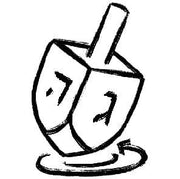 Easy Returns
Quick Shipping
Description

As educators authors Pearl and Maxie were inspired to create a vibrantly illustrated kid's companion Haggadah called Hug-It-Out. It is a love letter to our children who sit at the Passover table and learn about Judaism from us with great curiosity and awe. 

The Haggadah Collective matches every page of Hug-It-Out. Kids and adults are literally on the same page from getting your table ready, reciting all of the traditional prayers and singing their favorite Passover songs.

This unique approach combined with the dynamic and fun-filled illustrations, allows for a seamless Seder for the entire family.
More about The Haggadah Collective
Pearl Richman and her daughter Maxie - who are by no means Jewish scholars - are passionate and dedicated students of kindness, love, and inclusivity. With a plethora of mutual interests that include styling, design, writing, and advocacy, Pearl and Maxie set out to modernize the Passover Haggadah you've been using for decades by curating The Haggadah Collective. It is infused with a chic, contemporary aesthetic and is grounded in the ever important concepts of diversity, equality, and acceptance. With this inspiration in mind, The Haggadah Collective was curated in order
to reflect old traditions and create new ones.
Woke
Had to change the narrative...put a 'modern' spin on what should be sacred. I don't appreciate it. 71 years old, I've never seen an 'orange' on a seder plate, nor a RAINBOW. Adding a 5th child - ask the Rabbis. Major change to a 2000 year old tradition. But my in-laws survived Auschwitz, so I won't differ. Miriam's cup? Hmmm...it is a story that has to be told. Miriam? The Fourth Cup - is broken? BROKEN? The 4th cup is G-d's promise to the Jewish people: "And I will take you to be my people." And...a 5th cup. A woke rant. I will never again purchase from this website. I will not give the 4 Haggadahs I purchased to my grandchildren and great grandchild. In the infamous words of Tuvia - TRADITION! And I highly doubt you will post my review - such is Woke.
Best way to involve the little ones
It was a wonderful way to involve my great niece.
Better together!
Great, but even better alongside its accompaniment for grownups. Our 7-year-old daughter basically ended up leading our Seder! We'll be back to buy more for kids and grownups for next years' larger (in-person) Seder.