Happy Hanukkah Ya Filthy Schmuck Sweatshirt
Secure Checkout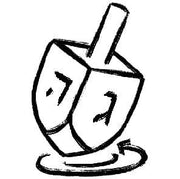 Easy Returns
Quick Shipping
Description

It's the holiday season, 1990. A young boy, Kevin Stein is getting ready to travel to Boca to visit his bubbie with his family. Unfortunately for him, they leave earlier than anticipated - now this is plausible because everyone knows us Jews are never on time. Ever. Especially when traveling in groups, and that's increased exponentially when traveling to the airport together. So anyway they leave earlier than expected, Kevin slept in anticipating a late departure per usual only to find that he has the whole house to himself. What does he do? Rage! That's the plot for Home Alone Jew.

So you know the scene in the real movie... MERRY CHRISTMAS YA FILTHY ANIMAL (this is actually from Home Alone 2, but we're stretching here it's ok) ... Kevin Stein orders Chinese Food delivery, and when it's delivered he recites the line on this sweater...HAPPY HANUKKAH YA FILTHY SCHMUCK. But he doesn't have a BB gun or fireworks because no Jewish mother would let their son have those, so there's a lot less excitement here. The guy just walks away confused and Kevin eats his lo mein and watches the rest of his movie.

Note: XS is labeled as a Youth L but the measurements are identical. 

XS and S currently available.
Haven't received this yet
Returned for larger size and still don't have the exchange