Happy Hanukkah Ugly Hanukkah Sweater-Shirt - Women's
Secure Checkout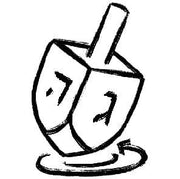 Easy Returns
Quick Shipping
Description

In heathered navy blue with white print, these soft and warm Hanukkah sweatshirts let you proudly represent at your next Ugly Sweater Party.

CHOOSE: Women's S, M, L, XL, 2XL

Be a cool parent. Get matching Hanukkah Sweater-shirts for the whole family. Shop unisex and youth sizes. If you want a woman's XS, try a youth L- it's the same measurements!
Cute Sweater Shirt
I somehow missed that it was a sweater shirt and not a sweater when I originally bought it but it's comfortable nonetheless. I'm kind of glad it was a shirt because I didn't end up roasting in it during ugly sweater parties!
Cute shirt but weird fit
The shirt is nice but fits like a box and very short. The customer service was very nice about returning it.
It's NOT an ugly Hanukah sweater!
One review I read said that it's short, didn't fit right and was ugly.....well, yes it's short - but it shows that in the picture. It fits perfectly - for me anyway and I think it's adorable. Now I can't wait for Chanukah next year to wear it!
Fantastic customer service
I ordered several items from modern tribe, when my order arrived one of my items didnt fit; so I contacted the customer support team and they responded within the hour to send me a return shipping label to help make sure the exchange arrives before the holiday. While I know us jews always deliver a quality service no matter what we do, I still was impressed with the swift reply. Not only will I be a returning customer, I will also tell all my other jew friends about this website when they see my son and I in super cool Hanukah sweaters. Mazel Tov, you truly have a fantastic operation over there!