Happy Challah Days Gym Socks
Secure Checkout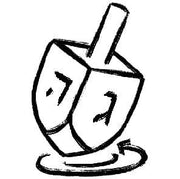 Easy Returns
Quick Shipping
Description

Perfect to wear for your favorite Jewish holiday. These socks are so soft you'll feel like you're walking on leavened bread. Happy Challahdays, everyone!

One size fits most: 

w

omen's size 6 to men's size 11.

Made in the USA
More about Gumball Poodle
It all started with a pair of socks in 2008. Gumball Poodle founder
Erica Easley
wanted a pair of OBAMA knee-highs but nobody made them. So she went out and made what was supposed to be a little one-off run. Seven years later, that little one-off run has expanded, morphing into a bold and playful psychedelic explosion of well over a hundred styles and designs.
A little tight but very fun
So fun! They're a little on the right side but I love them!