Hanukkah Hostess Gift Set
Secure Checkout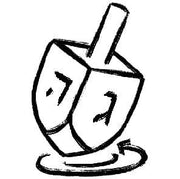 Easy Returns
Quick Shipping
Description

Going to someone's house for a latkes celebration? Don't forget a gift! This bundle combines some of our most popular Hanukkah host gifts. You can't go wrong!

This Love You a Latke Headband is perfect to wear through Hanukkah! You get one per order, made with royal blue lettering and white fringe.




Celebrate Hanukkah with this festive kitchen towel. Each towel measures 

15.00" x 25.00"

8 Nights of Delight Hanukkah Tasting Collection: With each passing night, a new candy is revealed, and a candle gets its light. Open each drawer to find four pieces of Kosher-certified candies to bring joy, love, peace (and all the sweets) to you and yours.
More about ModernTribe
Items exclusive to ModernTribe!