Hanukka Decorations Apron by Barbara Shaw
Secure Checkout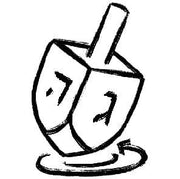 Easy Returns
Quick Shipping
Description

Hanukkah is such a joyous festival. It's a feast for the eyes, ears, stomach, and the heart and soul. Our newest Hanukkah design is a celebration with different styled Menorahs, wine, dreidels, gelt, and more.

HANDMADE unique Hanukkah Apron for the home, made with love and care. Sewn and printed in Jerusalem in our own ethical all-woman workshop.

AUTHENTIC original design- sourced directly from the life of Barbara Shaw who has made it her calling to bring to you the most stylish gifts for the house and home and to let you take a piece of Jerusalem home with you.

HAND Screen-Printed. Beautifully gift packaged with a sleeve in the window. Tie at the waist. This generously cut apron is designed to fit most sizes. 

COTTON mix Machine Wash and Dry, easily cleaned no iron necessary Ideal for home or business use. Well-suited for the kitchen, garden, or craft table! 
More about Barbara Shaw
Barbara Shaw's passion is to artistically present Israel and her Jewish roots in a fresh, creative, and fun way. She loves fusing the ancient with the contemporary. She likes her ranges to have an international feel, yet with a look that says it could only have been produced in Israel.
Barbara grew up in Sydney, Australia and came to Israel in 1986. After searching for gifts and not finding what she wanted, she decided to produce her own. She saw a gap in the market for bold, well designed and packaged gifts; items that are practical and beautiful.
All products are made ethically in her workshop in Jerusalem. Her aim is to touch people's hearts and strike a chord with their heritage and family background.