Handmade Shabbat Candles - Dusk Reflection
Secure Checkout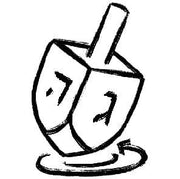 Easy Returns
Quick Shipping
Description

Handmade Shabbat Candles in Dusk Reflection are ideal for Shabbat and all Jewish Holidays! Sized to fit most candlesticks. Burns clean and bright.

12 Hand-Dipped Candles
5.5" tall
Note: Placing lit candles near a draft or too close to each other may cause dripping.
Shabbat is even more special
"Dusk Reflection" is an apt name for these tall, elegant Shabbat candles. I bought them for their vivid colors, which complement various items in my home. I habitually put candles in my grandmother's antique brass candlesticks after Havdalah on Saturday night so I have the pleasure of seeing them all week.
Beautiful candles
The beautiful colors of these Shabbat candles become muted and even more lovely as they slowly burn down. They last a very long time and I are a joy to watch.
Fire up
Beautiful product and one that supports Israel can't get much better.