Hamsa Home Blessing - Hebrew and English
Secure Checkout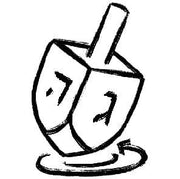 Easy Returns
Quick Shipping
Description

Discover a touch of divine protection and prosperity with the beautifully crafted Hamsa Home Blessing. Made in Israel, this wall decor offers a comfortable presence in any living space, whether it's your living room, bedroom, or hallway.

The Hamsa Home Blessing features a vibrant, colorful print. Encased in a robust stainless steel frame, it stands the test of time and offers a contemporary aesthetic that blends seamlessly with any home decor style.

What makes this blessing truly shine are the sparkling crystal stones, which accentuate its beauty and give it a sense of luxury. The crystals capture and reflect light, adding an extra layer of depth to the intricate design.Made in Israel

4.7" x 5.5" 
Features a durable stainless steel frame
Accented with radiant crystal stones
Home blessing is inscribed Hebrew: Luck, abundance, blessing, prosperity, success, fertility
Ideal for personal use or as a thoughtful gift for loved ones.
More about Dorit Judaica
Dorit is native to Jerusalem. From a very young age she took up the brush and under the guidance and encouragement of her beloved mother went on to seek new materials, work methods and technologies. 
Utilizing techniques and tools from the world of graphics and in combination with traditional laser cut patterned decoration work and Jewish texts from her upbringing and environment, she created a unique and fascinating combination of shapes and hues, decorations and letters, old with new, traditional with modern.