Gelt for Grown-ups by Veruca Chocolates
Secure Checkout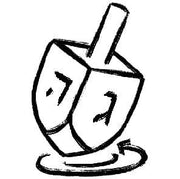 Easy Returns
Quick Shipping
Description

Veruca Chocolates is a boutique chocolatier specializing in stunning, hand-made artisan chocolates. Hanukkah Gelt for Grown-ups is a modern and delicious alternative to the foil-wrapped standard. Boxes of gelt are perfect for holiday gifting. Gelt is made from solid premium dark (64%) or milk (38%) chocolate molded to replicate an actual Judean coin dating back to the 4th decade BCE. Gelt for Grown-ups is certified kosher dairy by the cRc of Chicago.

CHOOSE: Milk Chocolate or Dark Chocolate with Cocoa Nibs
great chocolate
we all loved this gelt. the kids and adults alike. I especially liked there wasn't any foil to have to throw away. We will definitely get this again.
Hanukkah GELT for adults
Artisanal- beautifully executed
Dark choc is sublime !!!
Perfect ...will order next year woohoo!
Adult Gelt
Honestly I don't remember receiving that. I am not at home and review what I received when I get back after the first of the year. I found having to get my order from multiple sources very difficult to keep track of and will take this into consideration on future orders
Interesting and a real improvement iver traditional "kiddie" gelt. Wish it had been more clear that dark chocolate was available. These were tasty, but dark chocolate would have been the bomb.
Delicious and unique
These chocolates are a much needed improvement over the traditional gelt. No foil to peel off, attractively shaped like ancient Israeli coins, and so tasty. These will definitely be a regular Hanukkah purchase for me from now on. Highly recommend.