Gefilte Fish Candle
Secure Checkout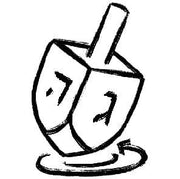 Easy Returns
Quick Shipping
Description

Why is this candle different from all other candles? Nothing evokes more Passover memories than the scent of a freshly cracked open jar of Manischewitz gefilte fish. Our hand-poured Gefilte Fish Candle captures the Pesach magic and turns your home into a Seder oasis.


One scent would have been enough. Dayenu! But the Gefilte Fish Candle has layers of complex plague-masking aromas:

Top Note: Whitefish, Bubbe's Perfume
Middle Note: Freedom
Base Note: Horseradish, Musk

Handmade with real locally-sourced bathtub carp 

Approximate burn time: 40 years
Horseradish candle sold separately
24 oz
April Fools!
More about ModernTribe
Items exclusive to ModernTribe!
Perfect for Pesach!
Just like my bubbe served! 🤣
Overpowering scent of freedom
With hints of the smell of Israelites after wandering in the desert, this candle brought me right back to my mother's homemade gefilte!
Special scent
Love this! I can't think of a scent that permeates the whole house for as long as the smell of gefilte fish cooking.
Happy April 1st!