Forest Ketubah by Melanie Dankowicz - (Choice of Colors)
Secure Checkout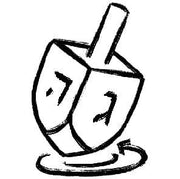 Easy Returns
Quick Shipping
Description

Trees are a symbol of strength and growth in a marriage. The papercut Forest Ketubah welcomes you to enjoy the peacefulness of the woods and the freedom of the birds and squirrels. By artist Melanie Dankowicz.

After you place the order, we will send you a Ketubah Worksheet by email. The information you provide on this form will let us know exactly how to personalize your ketubah text, color and design.  Using one of the provided texts with blanks incurs no charge. Personalized text is $85 extra and customized text is $145 extra.

Using one of the provided texts with blanks incurs no charge. Personalized text (adding your names and dates) is $85 extra and customized text (using all your own text) is $145 extra.

Once you have placed your order and sent in your Ketubah Worksheet, we will send you a proof of your text so that you and your officiant can confirm that it is just right. At this point please let us know of any changes you would like to make to the text or formatting.

Would you like to add a language? We have prepared ketubot in French, Chinese, Spanish, Swedish, and other languages. Let us know what would feel right on your ketubah. We can totally customize it for you. Please let us know about special requests for color, fonts, etc.

It's fine to write Hebrew names on the worksheet transliterated in English text, and we will convert them to Hebrew letters for you.

If you're not sure of the Hebrew date of your wedding feel free to leave that blank for us to determine.

Dimensions: 19.75" x 19.75"

Free domestic shipping is included. Please allow 4-6 weeks for delivery. If your deadline is sooner just let us know, and we will be happy to work with you to be sure your ketubah is ready in advance of your wedding! Discounts not applicable. 

We will send you detailed care information when your ketubah ships. Your ketubah will ship flat by UPS Ground, protected within a clear plastic art envelope and packed safely between several layers of cardboard. It will be mounted on a firm white gatorboard, ready for signing and display at your wedding!

 Coupons not applicable.
Shipping Info

Free shipping on U.S. orders $75+
Orders typically ship in 1-2 business days from Melanie Dankowicz' Illinois studio
Standard delivery takes 3-10 business days
Easy returns within 30 days of purchase
More about Melanie Dankowicz
With cut metal and paper, Melanie strives to create striking and complex impressions, uniting traditional motifs with contemporary themes, balancing the flow of lines with the depth of space. She enjoys integrating Hebrew text in design, bringing out the beauty of the letters and the essence of their message
In metal, her pieces are designed to be viewed from all angles. Once lasercut, they are brushed, glass-blasted, or anodized to a smooth finish to achieve functionality, utility, and beauty.
The Spring Seder Plate, cut from stainless steel, won the NICHE Award in the category of Judaica. Melanie's artistic work began in 1994 with the creation of a ketubah for her own wedding. She draws inspiration from the countryside of Illinois, where she lives with her family. All of Melanie's work is crafted in the USA.