Flora on the Menorah
Secure Checkout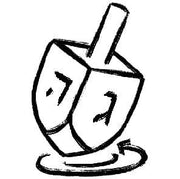 Easy Returns
Quick Shipping
Description

A fun Hanukkah tradition! Flora on the Menorah is the perfect way to spend time with family and little ones. Flora on the Menorah includes a plush menorah with 9 led candles. It also comes with the perfect short story that you are able to read to your little ones, or have them read with their siblings. Use the led candles to represent the nights of Hanukkah. Follow Flora on her journey and spend time with your family during the holiday.

Includes:

Flora plush toy

Menorah plush toy with battery powered unit (batteries not included*)

9 led candles (ready to be lit!)

Flora on the menorah story book.

*The candles come power ready so you do not need batteries right away. Candles will eventually die of power then you can revert to batteries to light your plush menorah.
Plrase what size batteries do I need. Lights only worked a few days. Great gift
Great Book
Lovely book for my grandchild.
My whole family loved it! We have a granddaughter named Flora. She is 7 years old!