Eye Level Necklace
Secure Checkout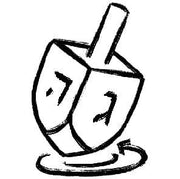 Easy Returns
Quick Shipping
Description

Square gold pendant with tiny turquoise eye.

Small but mighty, the all-seeing "eye" amulet worn to deflect negativity and bad vibes is captured in this elegantly understated pendant. While we make no guarantees, more than one customer has told us that they wear this pendant to magically find a parking spot when picking their kids up from school.

The tiny turquoise eye gazes out of the 3/8" 14k yellow gold square charm. A dainty matching 16" gold chain passes through two openings at the top of the square, so that the pendant stays flat against your skin without flipping or turning when you move. 

Material: 14k gold

Stone: Turquoise

Pendant Size: 3/8"

Chain Length: 16"

PLEASE ALLOW 2 - 3 WEEKS FOR DELIVERY.
More about Alef Bet
In 1996, Paula started Alef Bet Jewelry to disrupt the boring, dated Jewish jewelry that was on the market at the time. Empowered by the constant request of customers to create more and more designs of modern jewelry with a religious and spiritual feel, while maintaining a modern and fashionable look, she set out to fulfill your request. Today, Paula is joined by her daughter, Alissa and the two are inspired by current jewelry trends, but with a twist.

The designs have to touch your soul, create a personal story, or show your faith all without compromising style and quality. With jewelry durable enough to wear every day, there is no reason not to add a piece Alef Bet jewelry to your current line of accessories.