Enlighten Yahrzeit Candle Holder by Laura Cowan
Secure Checkout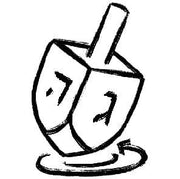 Easy Returns
Quick Shipping
Description

The candle holder is created out of two contrasting materials that Laura gently curves by hand– mirror polished stainless steel and matt anodized aluminum, reflecting the differences between earth and heaven.

Inscribed on the candle holder is:

נר אלוקים נשמת אדם

Which means "The light of G-d is in the soul of man" and these words are lit by the glow of the candle.

Materials: Stainless Steel. Anodized Aluminum. Brushed Aluminum.

Size: Length 23 cm/10 inch, Height 11 cm/4 ½ inch, Width 6 cm/2½ inch

Do not leave any lit candles unattended. Ships from Israel. Please allow 5-10 business days for delivery. Rush shipping not available.
Shipping Info

Free shipping on U.S. orders $75+
Item ships from Israel. Please allow up to 10 business days to arrive with standard shipping.
Easy returns within 30 days of purchase
More about Laura Cowan
Contemporary Judaica designer and Jewish artist Laura Cowan began her career in London after graduating in Silversmithing and Jewellery at London Guildhall University. She now brings her unique ideas to the field of Judaica, working from her design studio and workshop in Tel Aviv, Israel to build original handcrafted pieces.

Many of Laura's Judaica designs are inspired by the Sixties mission to land a man on the moon. Although this was achieved even before Laura was born, she was fascinated by the hype and excitement generated by the race to the moon. Laura also loves the irony of a futuristic design based on what is now history. Combining this with her Jewish upbringing and identity, Laura has produced many stunning pieces of modern Judaica.