Hammered Chanukah Menorah by Yair Emanuel - Rainbow
Secure Checkout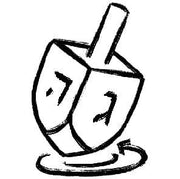 Easy Returns
Quick Shipping
Description

The Emanuel Hammered Chanukah Menorah is a modern rainbow and silver sleek menorah with hammered detailing throughout. Made in Israel by Yair Emanuel.

Clean elegant style
Hammering detail
Color: Silver with rainbow
Designed by Israeli designer Yair Emanuel
10.6'' x 2.4'' x 1''

Do not leave any lit menorahs unattended. 
More about Yair Emanuel
In his studio located in Jerusalem, Yair Emanuel designs various Judaica products. His designs are based upon a fusion of traditional motifs and ancient Jewish manuscripts with modern and oriental art.
Vivid and harmonious colors as well as a mixture of the old and the new, characterize Emanuel's work. He uses many different techniques including hand embroidery, painting on wood, painting on silk and a variety of metal designs.
Gorgeous but wobbly
Purchased for my daughter as this was the menorah she picked out herself. Slightly disappointed as it was not as sturdy as I had hoped. The little legs on the menorah make it easy to tip, especially with heavy candles.
Emanuel Hammered Chanukah Menorah - Rainbow
smaller than I thought
smaller than picture made it seem
It'll be a bright Chanukah!!
I love our new Chanukiah...it is so colorful and simplistic. After surviving Breast Cancer this year I am also excited to light our Pink Chanukah candles.