8 Nights of Delight Hanukkah Tasting Collection
Secure Checkout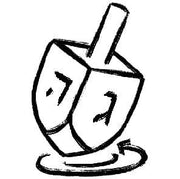 Easy Returns
Quick Shipping
Description

A celebration of candles burning bright, each lit on eight very special nights. This Hanukkah tasting collection was made for creating memories and sweet new traditions. With each passing night, a new candy is revealed, and a candle gets its light. Open each drawer to find four pieces of Kosher-certified candies to bring joy, love, peace (and all the sweets) to you and yours.

Dark Blue + Silver Foil + Gold Foil
10.63 x 7.31 x 2.38"
Kosher supervision: 

Kof-K. Includes both dairy and pareve candies. 

Includes: Sugar Cookies, Robin's Egg Caramels, Champagne Bubbles, Dark Chocolate Sea Salt Caramels, Coffee Cordials, Chocolate Covered Cookie Dough, Birthday Cake Cookies, Heavenly Sours

Contains: Soy. Milk. Tree Nuts (Almonds) Wheat. Egg whites.
Eight Nights of Delight Hanukkah Tasting Collection
Since finding out through a DNA test in 2018 that I am Jewish on my mother's side, I have enjoyed learning as much as possible about my Jewish background. However, since my Mother died when I was still a child, I don't know if she knew about her Jewish background or not. My children (one girl and two boys) tolerate my enthusiasm, but aren't interested in learning more about it themselves. However, I want my grandchildren to know that their Grandmother is proud to be Jewish and so I send them little Jewish gifts on special occasions and try to choose simple things that I know that they will enjoy. Last year, I bought the Jewish theatre props and told them to have fun with them and send me some pictures of themselves as they tried different poses. The grandchildren had lots of fun with them. This year, I sent something that the whole family could enjoy and enclosed a little note, telling them that each night as I lit my next Hanukkah candle, I would think of them enjoying their candies and then reinserting the little box with the picture of the candle into the correct spot and it would make me feel close to them, knowing that they were 'celebrating' Hanukkah with me. They all participated and enjoyed the candies and the tradition of 'lighting the Hanukkah candles' each night. Thank you for all of the many products that are available to someone like me who wants to share her faith with her family, but doesn't want to make them feel that I am trying to 'convert' them to the Jewish faith. I have always had a heart for the Jewish people and have been an Abraham member of the International Fellowship of Christians and Jews for years now. Having read extensively, as well as studying online, I am appalled at some of the things that the Christians have been taught about the Jewish people and do my best to speak up when I come across any person who believes in the 'Replacement Theory' or is in any way displaying an attitude of Antisemitism, and have found that in most cases, people are eager to listen and to learn, so I am trying to be one little light who is trying her best to build bridges between Christians and Jews. Shalom to you and the wonderful products that you make available to do just this! - 'Leah' (my Jewish name, which I love)
Get them FAST
These candies sell out so fast!! They are amazing!!!
My granddaughter loved this.
The idea of this is thrilling! A surprise a night! Interactive, charming, fun. The only problem was that she didn't like most of the candies BUT we saved the box and next year we'll fill it with her favorite treats…and maybe buy another one for the other granddaughter.
Great gift for out of state Family!
We sent this to my fiancé's grandfather, and it was a huge hit! I was able to ship it straight to him, and he had it in time for Hanukkah! It was beautiful, and so special to be able to send him some love from family for Hanukkah. I would definitely buy it again!
A small box of Smiles
My Aunt is a beautiful older women who lives alone and this 8 nights of Delight candy brings a Big Smile to her Heart,, Perfect gift.