Ceramic Dog Menorah
Secure Checkout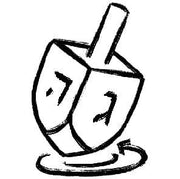 Easy Returns
Quick Shipping
Description

If you love dogs, you'll love this fun menorah. Enhance your Hanukkah with your favorite pet in menorah form. 

Designed by Jessica Sporn
Ceramic
Uses all standard Hanukkah candles
Measures: 10" x 3" x 3 1/4"

Do not leave any lit menorahs unattended. 
My, mistake
Thought it had a different dog. When I received it , on closer examination was not the gog I thought it was. Well made, very cutr
I do no take time to write "reviews" of everything that I buy. If you would like an extensive thoughtful review written please submit a 25% of purchase review fee and I will gladly consider a response otherwise be happy that I bought the product and didn't complain about it I am not going to continue this I'm trying to advise retailers that this technique doesn't work with me.
A Huge Hit!
I gifted this beautiful menorah to my two great nephews who live in Denver, Colorado when they came to Michigan for the Thanksgiving holiday. Their family are HUGE dog lovers (they obviously have a dog of their own). When they opened the menorah they were thrilled (so was I! It is gorgeous, beautifully made and simply darling!). Then, when they returned to Denver, their Mom took a photo of them with the menorah to show that they love it and used it for Chanukah 2021!! Sooo happy!!
Ceramic dog menorah
I love this so much! The dogs are all adorable😍💝‼️
My new favorite!
We have a menorah collection, and this adorable doggie menorah fits so well!! It is extra detailed and soooo cute!! My only complaint is that the glue they used does not stand up to the test, as two dogs were loose straight out of the box. A little super glue and it's perfect! I'm so glad we ordered it!!