Divine Hebrew Passage Hamsa Wall Blessing
Secure Checkout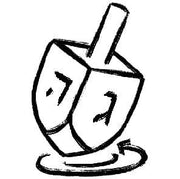 Easy Returns
Quick Shipping
Description

The Divine Hebrew Passage Hamsa Wall Blessing showcases a vibrant, colorful print encased in a sturdy stainless steel frame. 

This wall blessing is further enriched by the addition of crystal stones. These shimmering gems capture and refract light, adding a touch of elegance and luxury that truly brings the Hamsa design to life.

Etched on the Hamsa is the blessing, "Blessed are You in Your Coming and Going". The comforting prayer, an invocation for divine protection and guidance, transforms this piece from mere decor to a meaningful symbol of faith and hope.

Made in Israel
4.7" x 5.5" 
Stainless steel
Accented with captivating crystal stones that add a luxurious touch.
Features the blessing "Blessed are You in Your coming and going", creating a tranquil aura of protection.

Perfect for personal use or as a thoughtful, inspiring gift.
More about Dorit Judaica
Dorit is native to Jerusalem. From a very young age she took up the brush and under the guidance and encouragement of her beloved mother went on to seek new materials, work methods and technologies. 
Utilizing techniques and tools from the world of graphics and in combination with traditional laser cut patterned decoration work and Jewish texts from her upbringing and environment, she created a unique and fascinating combination of shapes and hues, decorations and letters, old with new, traditional with modern.