Classic Spinmaster Hanukkah Sweater
Secure Checkout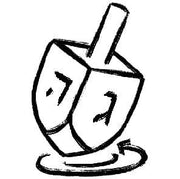 Easy Returns
Quick Shipping
Description

If you don't have callouses on your thumbs and pointer fingers, you are NOT ready to spin against him.

Geltfiend's classic Spinmaster Hanukkah sweater features a bold dreidel print in navy and off-white, sustainable wooden buttons and pockets (for dreidels, gelt, dreidels-and-gelt, or your lucky whatever-it-is).

97% acrylic

3% spandex

Made in the USA

Vegan

Large in stock.
So glad you love it! Enjoy! -- Jennie
Great Sweater
I love my Spinmaster Sweater. I've been lusting after it for several years now and I finally bit the bullet to get one! I'm so glad I did :) It's nice and warm and comfy. I was worried that it would be too small (since hipster clothes run small) but the sweater is actually fairly true to size. I'd consider myself a manly zaftig and the XL ran just a hair on the small end, but still well withing my expectations.

Again - super stylish cardigan sweater and I look forward to wearing it to all my Hanukkah (and Xmas) parties this year!
Yay! So glad you love the Spinmaster Sweater. Happy Hanukkah! -- Jennie