Chametz: The Search is On (Like Clue For Passover!)
Secure Checkout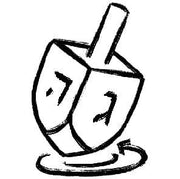 Easy Returns
Quick Shipping
Description

Chametz: The Search is On

has a simple premise: It's two weeks before Passover and Colonel Moti invites Rabbi Greenberg to his home to give a Pesach shiur (lecture). The colonel serves snacks which are kosher, of course, but not kosher for Passover. Uh-oh! A member of the congregation leaves an item of chametz somewhere in the house. Who is the culprit? What type of chametz? In which room? Fortunately, the gameboard is the blueprint of Colonel Moti's home.

Land on the "question" squares and you'll be asked a question pertaining to Passover or Jewish History.  Makes learning fun!

Recommended for ages 7 and up, but can go younger if helped by a grown-up.  If you like "Clue" then you'll love "Chametz"!  Kosher for Passover and all year round!