Chai Maintenance Hanukkah T-shirt/Sweater
Secure Checkout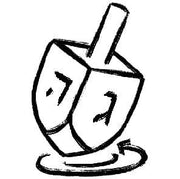 Easy Returns
Quick Shipping
Description

The Faux Real Chai Maintenance Ugly Hanukkah Sweater is perfect for the lady looking for some unique Hanukkah attire. This shirt featuring an assortment of dreidels and menorahs your style is sure to impress! The best part of it all? This is a soft and comfortable t-shirt, and not your standard itchy wool sweater. Whoever said you couldn't dress comfortably during the holiday season? No need to be chai maintenance at all!

T-shirt is thin and runs small. Made from polyester. Consider ordering one size up. 
We do suggest sizing one size up in this shirt. Sorry it was not a good fit for you.
Just eat I wanted; a loud, noisy, happy shirt that says it all.
And, that's exactly what I got. I can hardly wait to get it out next December
Not actually a sweater or sweatshirt
Other reviews already detail that this shirt is neither a sweater or a sweatshirt. It feels more like a very, very small t-shirt made out of very thin neoprene. Also, as noted by others, sizing runs very small. Photo printing of the design on the shirt does not line up with the collar accurately, so there's a weird offset band of white on mine that doesn't appear in any of the photos of this shirt. That said, I'm only going to wear it once a year so it's fine and I'm glad I bought it on sale.
Sorry you are not totally satisfied! We do describe the shirt as a thin polyester material.
Chai Maintenance t/shirt
Nice design. Wouldn't call it a sweatshirt. Very thin material. I wear a 1X shirt so I ordered a 2X shirt because its says size runs small.
Barely fit one arm. Too tight. I pulled it over my head but getting it over the bust was not going to happen.
I'd say these shirts run 3 sizes too small. Decided to keep it. Always hoping to drop some weight so I can wear it in the future.
Terrible cheap t shirt
I was so unhappy with the cheap quality of the shirt that was sent so I returned it for a full refund