Ceramic Yahrzeit Memorial Candleholder - Blue and Gold
Secure Checkout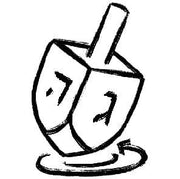 Easy Returns
Quick Shipping
Description

Commemorate the memory of loved ones with this timeless Ceramic Yahrzeit Memorial Candleholder. The word "Yizkor", to remember, is beautifully crafted through the walls of the luminaria, allowing the flicker of the candle to create a visualization of reflection and meaning. Simply insert a new glass candle cup and experience the solemn beauty of this Luminaria for years to come. Dark blue with gold.

Includes 1-day memorial candle
Always use on a non-flammable surface
Container will be hot when lit!CAUTION! Never leave a burning candle unattended!
This luminaria is intended for yahrzeit candles that are already in glass or tin ONLY. It is not meant for column or pillar candles. Do not place a loose candle directly in the luminaria.
Please note this luminaria can also be used with any standard 24 hour candle in glass or tin. Yahrtzeit refers to the day of a person's passing. On the day of the Yahrtzeit, it is customary to light a 24 hour candle at home to honor the memory of the deceased. The Jewish day begins at night, so the candle should be lit in the evening. Even if the candle burns for longer than twenty-four hours, it should not be extinguished. If the Yahrtzeit falls on a Saturday, the candle must be lit on Friday afternoon before sunset.

2.75" l x 2.75" w x 3.00" h

Do not leave any lit candles unattended. 
Shipping Info

Free shipping on U.S. orders $75+
Orders typically ship in 1-2 business days from Rite Lite's New York office
Standard delivery takes 3-10 business days
Easy returns within 30 days of purchase
More about Rite Lite
Rite Lite Ltd. was founded by Holocaust survivor Jacob Rosenthal in 1949 and they have been a leading manufacturer of Jewish ceremonial items, gifts, decorations, educational toys and crafts, books and more ever since. The legacy of his creative flair and unfailing commitment to value are hallmarks of every Rite Lite product.