Candleschtick Men's Pullover Hanukkah Sweater in Navy
Secure Checkout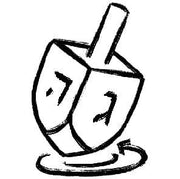 Easy Returns
Quick Shipping
Description

Candleschtick is ready to hit the slopes, whether you are or not! Warm and comfy, with a bold menorah-print ski-inspired design, this Hanukkah sweater is perfect to reach for when the air starts to chill.

Made in the USA

97% acrylic

3% spandex
Ugly AND made in America
Perfect for your next Ugly Sweater Party. Exactly as advertised - acrylic (UGH!), Orange & Blue (Go Illini!), and made in the good old US of A.
Thank you, Avis, for your review. I'm glad the sweater fit your needs. Happy secular new year! -- Jennie
I was the star of the party!
I wore this sweater to both a Hanukkah party and to a Christmas service. You'd think the latter would be insulting, but instead people found it quite entertaining!

With the help of this sweater my life has changed. Women flock to me in droves, I've found myself more in touch with my Jewish heritage, and I am more warm during the chilly San Francisco winter evenings!

Seriously though, this sweater was completely worth it. While the fit is slightly off, it's intended to be an ugly Hannukah sweater :)
!! Thank you for the fabulous review, chick magnet! -- Jennie