Black Cosmic Star of David Necklace - 22k Gold Plated
Secure Checkout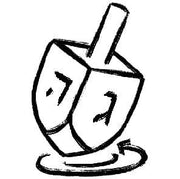 Easy Returns
Quick Shipping
Description

Discover the stunning design of this exquisite Black Cosmic Star of David Necklace. This captivating piece beautifully showcases the symbol of the Star of David, representing the rich heritage and spirituality of Judaism. Crafted with utmost care and attention to detail, this necklace is a true gem that will add a touch of elegance to any outfit.

Care Instructions:
To keep your necklace in pristine condition, we recommend removing it before exercising, showering, or sleeping. Please note that silver polish should not be used to clean this necklace.

22k gold plated brass
Chain: Gold-tone, mixed metal lobster-clasp chain
Length: 18" and can adjust to 22"
More about Sarah Day Arts
Sarah Day is a self-taught illustrator. She was
 originally on a fast-track out of college to start rabbinical school, but somewhere along the way became chronically ill & the hyper-fast-paced career she had been gunning for became completely out of reach. Turns out that was okay and art has given her so so so many unexpected gifts and community.