Anodized Aluminum Flat Dreidel with Metal Cutouts by Yair Emanuel - Turquoise
Secure Checkout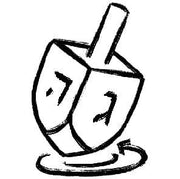 Easy Returns
Quick Shipping
Description

This modern Anodized Aluminum Flat Dreidel with Metal Cutouts features a square metal design with the Hebrew letters 'Nun', 'Gimmel', 'Hey' and 'Peh' are blended seamlessly into the design on each side, standing for 'Nes Gadol Hayah Poh' ("A Great Miracle Happened HERE", since these are made in Israel!) Coordinating stand included. Made in Israel by artist Yair Emanuel.

Clean elegant style
Color: silver with turquoise

Designed by Israeli designer Yair Emanuel

2.2" x 0.8" x 0.8"

More about Yair Emanuel
In his studio located in Jerusalem, Yair Emanuel designs various Judaica products. His designs are based upon a fusion of traditional motifs and ancient Jewish manuscripts with modern and oriental art.
Vivid and harmonious colors as well as a mixture of the old and the new, characterize Emanuel's work. He uses many different techniques including hand embroidery, painting on wood, painting on silk and a variety of metal designs.
Loved adding this unique dreidel to my collection
Love the look, feel, shape and spin of this dreidel. It's so different from all my others. My grandkids liked spinning it too.