8 Best-Selling Kids Hanukkah Gifts - One for Each Night!
Secure Checkout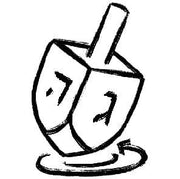 Easy Returns
Quick Shipping
Description

8 of our best selling tchotchkes for kids, one for each night of Hanukkah! Suggested for kids aged 6+. Gift pack includes:

Build Your Own Brick Dreidel: 72 blocks and four stickers with the letters necessary to create the full dreidel look
Hanukkah Dreidel Fidget Poppit: Made of safe, eco-friendly silicone. It is 100% non-toxic, has no detachable parts and is safe for kids of all ages.
Chanukah Shrink Art: Color the Hanukkah designs with the included markers and insert into the oven (see directions) where they magically harden and shrink. Then, make keychains and necklaces with the included rings & cords.

Forget spinning - get in on some dreidel popping action with this fun and competitive Dreidel Pop & Spin game! 

Make Your Own Beeswax Hanukkah Candle Kit: Create your own Hanukkah candles with the Make Your Own Beeswax Hanukkah Candle Kit! A fun project for all ages and makes Hanukkah extra special.
Hanukkah Singing Watch: It's Hanukkah Time! Hanukkah transcends time when celebrated with this festive Hanukkah Singing Watch.
Magic Dreidel Ball: This Magic Dreidel Ball has all the answers to play a fun game of dreidel! After shaking the ball turn the dreidel ball upside-down and wait for your answer to be shown through the window. 
Hanukkah Four in a Row Game: This exciting classic game now comes in a dreidel edition for Hanukkah. Hours of fun for the whole family!
More about ModernTribe
Items exclusive to ModernTribe!