Standard Etrog & Lulav Set from Israel
Secure Checkout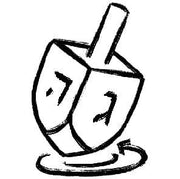 Easy Returns
Quick Shipping
Description

Shake with style in your Sukkah with a traditional set of the arba minim (four species) grown with care at special citron orchards in central Israel. Our standard selected Lulav and Etrog Kit includes:

1 Lulav
1 Etrog -- standard grade of size, shape, and color.
3 Vacuum packed Haddasim (myrtle branches)
2 Vacuum packed Aravot (willow branches)
1 Traditional Lulav holder
1 English-Language instructions guide
1 Lulav bag

We strongly recommend you place the Lulav, Haddasim and Aravot in a refrigerator upon receipt of your order. The Etrog should be stored at room temperature.

*All of our Lulav and Etrog sets are 100% Certified kosher, the difference in prices represent different grading levels based on cleanliness, shape and size. The grading process is done by a independent Rabbi.

100% certified kosher, from Israel.

*Will be shipped after Rosh Hashanah in time for Sukkot. This is a seasonal item and only available for Sukkot. Gift wrap not available. Rush shipping not available. Orders placed after 11 am ET on Erev Yom Kippur 9/25 will ship on 9/26. Items are final sale.
Shipping Info

Free shipping on U.S. orders $75+
Items ship after Rosh Hashanah from Got Etrog's New York studio
Standard delivery takes 3-10 business days
Easy returns within 30 days of purchase
Beautiful Set
The set was shipped securely packaged in two boxes. Both the etrog and lulav set were in perfect condition and the specimens were as nice as I've ever seen. The hazan at my shul even commented on how nice they were and felt they were a step up from what they were using during services. Will definitely buy again next year.
Standard Etrog & Lulav Set from Israel
Will order again next year!
Perfect for the holiday!
This is the second year I've purchased my lulav and etrog from you, and I am even more impressed than last year. I bought the regular set, and it came with the most beautiful etrog and lulav! Thank you for helping me enjoy the season of our joy!!
Standard Etrog & Lulav Set from Israel