Smash Glass Short Shabbat Candlesticks by Rosetree Glass Studio
Secure Checkout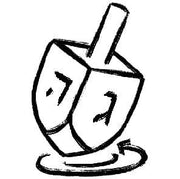 Easy Returns
Quick Shipping
Description

A beautiful keepsake, this Rosetree Glass Studio Shabbat Candlesticks are hand-blown by artist Mark Rosenbaum of New Orleans out of a Rosetree Glass Smash Glass. Unique and one-of-a-kind. 

4" high

After your wedding, you will ship your smashed glass to the artist. We provide all the instructions for doing so. Please allow 12+ weeks for the shards to be transformed into this beautiful piece of art.

Custom orders are final sale.

This item can only be created with a Rosetree Glass Studio Smash Glass. Glass sold separately. 

Do not leave any lit candles unattended. 
More about Rosetree Glass Studio
Rosetree Glass Studio creates distinctive, artistic smash glasses and gifts utilizing traditional glassblowing techniques. Classical shapes, iridescent colors and interior designs are combined to provide a unique approach to an ancient art.
The creative force and owner, Mark Rosenbaum, brings to Rosetree an unusually diverse background in glassblowing, glass casting, ceramics and jewelry. The result is an exciting interpretation of the art of glass.
After receiving a Bachelor of Fine Arts degree from the Tyler School of Art, Mark became the first recipient of a Master of Fine Arts in glassblowing from Tulane University. Awarded a grant by the Louisiana Division of the Arts, he established the first privately owned glassblowing studio in the state of Louisiana.
Candlesticks
I recently purchased the Modern Tribe smash glass for my son's wedding. It was very easy to order a product with the shards. They send instructions at the time you purchase on line. The candlesticks were delivered quicker than expected. They are beautiful. Unfortunately, the part of the sticks that hold the candle came off on one of them when it was knocked over a bit. But I think it's easily repaired.
Came out awesome
We could not have been happier with this product - my now-husband says the glass was really easy to break, the process of getting them the glass was real easy, and we got gorgeous candlesticks back a few weeks later. What a wonderful way to remember our wedding!