"Nice" Jewish Girls
Secure Checkout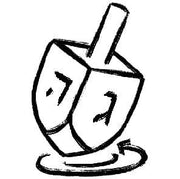 Easy Returns
Quick Shipping
Description

Thirty-six mini biographies of groundbreaking, outspoken, odds-defying Jewish women explore their fascinating lives, as well as the ways in which they were shaped by their heritage.

Probing the lives of historic icons like Anne Frank and Emma Goldman to contemporary heroines such as Ruth Bader Ginsburg and Janet Yellen the book also provides an overview of modern Jewish history. Subjects ranging from Anna Freud, the founder of psychoanalytic child psychology to fashion mogul Diane von Furstenberg to comedian Sarah Silverman offer a fascinating window into the ways Jewish women have approached their fields and embraced their identities. The captivating stories of luminaries from the worlds of politics, literature, activism, the arts, business, science, and more show how these women—in many cases—overcame the obstacles of being both Jewish and female to make their unique mark, and how being Jewish impacted their journeys. 

By Julie Merberg 

Illustrations by Georgia Rucker

Hardcover: ‎

160 pages

Reading age: ‎

12 years and up

Grade level:‎

 

6 and up
Shipping Info

Free shipping on U.S. orders $75+
Standard orders typically ship in 1-2 business days from our Ohio warehouse and take 3-10 business days to arrive.
Expedited shipping is available and ships the same day if placed before 11:00AM ET.
Easy returns within 30 days of purchase
More about Downtown Bookworks
I bought 2 copies ...thanks negative review!
I was just gonna buy one copy , but then I read the silly negative review so I bought 2 ! The negative reviewer should buy 2 copy's too, ya know for the next book burning on her Karen outlook calender. I have pride and respect for the subjects in this book!
Read It for Yourself
Just coming here to counteract the extremely negative review.
Human beings are incredibly fallible. No one is wholly good or wholly bad. The women written about in this book have numerous merits as well as deficiencies. Read about them for yourself to form your own opinion. This book is a good place to start.
Great Cultural Tool
My granddaughter is being raised as a baptized Catholic which is fine. Yet I wanted/want her to know her Jewish roots given to her by her father and her grandmother (me). I am a Rabbi and she goes to church. This book cut through all of that to teach my 8 year old grandchild what it means to be a Jew. It gave her, not just words, it gave her examples. Thank you.
absolutely loved this book! illustrations are beautiful and the bios are well written and engaging! great gift for feminists, girl-power ladies, and history buffs!
Not my tribe
This would be a nice book, if it weren't actually just a collection of women with hidden, or not so hidden, grotesques. It's time we stopped kissing the ass and believing the PR of these same old people. I'll list some examples;
RBG - "oh but she championed abortion!" Yes, and the Black community should hold her responsible for their staggering rate of abortion, it amounts to ethnic cleansing. Why didn't she champion self respect, marriage, and useful sexual education instead?
Shall we talk about her membership of the ACLU, in the 70's, when she gleefully campaigned to lower the age of consent, so that adults could legally have sex with children as young as 12? Is this healthy or normal in your mind? Her hype is vastly inflated above her decency and worth.
Sarah Silverman: literal racist in blackface, literal bigot against other religions, literal racist to anyone who isn't Jewish. All provable, with photos and videos. Absolute garbage as a comedian. Crass, vulgar, she is a human fart joke. Is this who we want to represent us? Is this the best we can do?
Janet Yellen: oh bravo, working for the Federal Reserve, the one thing poisoning the USA/globe, above all else. Really good role model you found here.
This book needs about 80% of its pages replacing with someone more decent, try photos of farm animals?
This book needs 80% of the pages replacing.