Jewish Wisdom Ball
Secure Checkout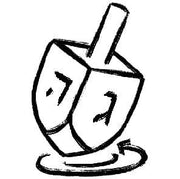 Easy Returns
Quick Shipping
Description

Say goodbye to crippling uncertainty forever! Simply ask the Jewish Wisdom Ball a yes or no question, shake, and turn over to reveal one of 20 answers imbued with the vast wisdom of our heritage. There's a good chance your question will be answered with a question, you may be made to feel guilty for having asked in the first place, and once in a while you could be told to put on a sweater. Answers include classics like:

* So now you need my help?

* Better you shouldn't ask

* Feh

* You call that a question?

* If that's what you want

* You should be so lucky!

We've taken 3,000 years of beautiful tradition, from Moses to Sandy Koufax, and captured it within a small, plastic toy. It's a great conversation starter, a handy conversation ender, it's cheaper than therapy, and is probably the most perfect present ever created.

The Jewish Wisdom Ball is 4" in diameter.
Shipping Info

Free shipping on U.S. orders $75+
Standard orders typically ship in 1-2 business days from our Ohio warehouse and take 3-10 business days to arrive.
Expedited shipping is available and ships the same day if placed before 11:00AM ET.
Easy returns within 30 days of purchase
It's cute but VERY HARD to read
The inside liquid is a dark blue, and Geezers like me have a hard time seeing through it to read the message.
Cheap
Not worth the money. you can barely read the display and most of the time you only see half of display
Can't read
The words of wisdom do not show enough to be able to read.
Great Novelty, Not Great Quality
My husband loved this as a gag gift, but it is cheaply made and contains too little fluid for the "answer" to appear without a lot of shaking. Overall, cute, but poor quality for the price.
Nice gift hard to read
Shipped to wrong address. After pleading I received a small discount on a future order