Jewish Holiday Kits - 1 Year Subscription Plan
Secure Checkout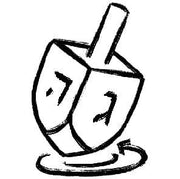 Easy Returns
Quick Shipping
Description

Dive into the beauty and traditions of Jewish holidays with our exclusive one-year subscription plan! Receive eight engaging kits throughout the year, designed to help you and your family celebrate and learn in a fun and immersive way. Each box is curated to offer a mix of traditional and innovative activities that change every year.

Holidays Covered:
1. Rosh Hashanah: Discover the essence of the holiday with items like "Greetings in a Jar", edible pomegranate pixel art, the Book of Tshuva, and more.
2. Sukkot: Fill your home with holiday joy and bake delightful Rosh Hashanah foods using our Days Crazy Beez baking kit.
3. Hanukkah: Engage in tradition and creativity with activities like casting your Rock of Ages Menorah and crafting a vibrant dreidel.
4. Tu B'Shvat: Celebrate the Jewish Birthday of the Trees with a seder celebration kit, tree planting, and engaging games.
5. Purim: Revel in joy with DIY costume ears, edible Purim masks, and a variety of crafts and play ideas.
6. Passover: Relive the exodus from Egypt by learning about the Ten Plagues, baking matzas, and participating in the Seder.
7. Lag Ba'Omer: Craft a bow and arrow, shoot at a canvas target, and embrace the spirit of the day with a paper bonfire.
8. Shavu'ot: Welcome summertime with dairy-filled feasts, late-night conversations, and the joy of learning.

Subscription Details:


Begins with the next upcoming holiday.
Receive timely delivery for each celebration.
No refunds.
Exclusively available for USA shipping.

Experience the magic and depth of Jewish traditions. Celebrate and create lasting memories with your loved ones! 🌟

No refunds. Begins with the next upcoming holiday once the subscription starts. USA shipping only.