This Too Shall Pass Hebrew Bracelet - Sterling Silver, Gold or Rose Gold
Secure Checkout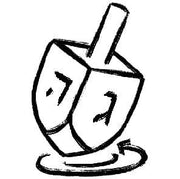 Easy Returns
Quick Shipping
Description

Are you or someone you love going through a little something? This too shall pass. This bracelet is hand stamped in Hebrew with: gam zeh ya'avor.

Choose your favorite metal: Sterling Silver, 14k Gold-Filled or 14k Rose Gold-Filled.

1/4 inch wide x 6 inches long, stretches to adjust to wrist. 

Item is custom made. Please allow 2-5 days for fulfillment. Rush shipping not available.  

King Solomon ordered his minister to find that which would make a sad man happy and a happy man sad. The minister traveled the kingdom for six months, the night before it was due he wearily asked a peddler in the old city of Jerusalem if he had such an item. The peddler told him to wait and disappeared. He came back with a ring, engraved "this too shall pass". Upon receipt, King Solomon smiled. This too shall pass. Perfect.
Shipping Info

Free shipping on U.S. orders $75+
Items are made to order, and typically ship in 3-5 business days from Everything Beautiful's Indiana studio
Standard delivery takes 3-10 business days
Easy returns within 30 days of purchase
More about Everything Beautiful
Woman - she is worthy, she is wonderful, and she is to be celebrated! Women serve the world in all kinds of capacities and sometimes need reminders of just how amazing they are.
​
The inspiration for Janet's designs comes from her own faith and fortitude. ''I believe women are a lot stronger than they give themselves credit for. I love to make designs that remind them of their power, the love they share, and the faith that keeps them strong.
I love to have mementos around me that say I am a strong woman and I can do it...whatever IT is!
''
Each piece of jewelry is handcrafted with beautiful, high-quality metals such as 14K gold-filled, rose gold-filled, and 925 sterling silver.
Great present to yourself
I love this bracelet and wear it all the time. It's elegant, beautiful and meaningful.
Wish it didn't have copper
Hanukkah Highlight
This was a gift for my wife on the first night of Hanukkah. She's been wearing it ever since. Fits perfectly on her right wrist and she appreciates the reminder.
Good to remember this sentiment in these times
I like the bracelet, other than the material being very thin. Love the sentiment. It's important to remember in these times.
Beautiful but I turned green
I love this bracelet, how it looks And what it says. The problem I had was after 2 days of wearing it, it began To tarnish and my skin turned green. I'm so sad because I love it and Want to be able to wear it
Hi Samantha- that should definitely not happen! Please contact us if you would like a replacement.