Personalized Name Block Candlesticks - (Choice of Colors)
Secure Checkout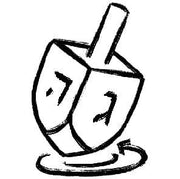 Easy Returns
Quick Shipping
Description

Shabbat is a special time of the week. Imagine the sparkle in your child's eye when they light their own set of candlesticks with their name on them.

A personalized set of candlesticks is the perfect gift for any time of the year - baby shower, birth, baby naming, bris, birthdays. Kids love to have personalized items made just for them. These candlesticks are made with custom carved blocks that the artist creates herself using high quality pine wood and nontoxic paint.

The height of the candlesticks will depend on the name. A name with 6 blocks will be about 10.5 inches high including the drip cup. These candlesticks use standard Shabbat candles. If your name is shorter we will use image blocks to fill out the candlesticks.

The candlesticks can be in pastels blocks or primary blocks. You can have gold or silver candle drip cups. The cups are made of metal and attached with screws for safety.

Dimensions: Depends on the name and amount of blocks. A name with 6 blocks will be 10.5" high 
Limits: 7 blocks maximum 
Materials: Wood, Paint, Glue, Metal
Paint: Nontoxic
Wood: High quality pine wood 
Handmade
Shorter names will have image blocks below and on top to fill out the candlesticks 

Please allow up to 2 weeks for delivery. Personalized items are final sale. DO NOT LEAVE LIT CANDLES UNATTENDED. 

Keep lit candles away from children. Avoid burning in drafts; place on a heat-resistant level surface. This item is for display and to be used as decor. Use with candles at your own risk.
More about Don't Forget the Gift
Personalized gifts by Jody Glass. Made for you in Florida.
Adorable
I bought this for my new grand daughter and everyone thought they were perfect. They feel sturdy and the colors are beautiful - I can't wait until she's old enough to use them!