Shabbat Clock - English or Hebrew
Secure Checkout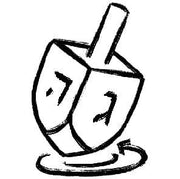 Easy Returns
Quick Shipping
Description

For thousands of years, Shabbat - the Sabbath - has been a day of rest and celebration. A beautiful holiday that arrives every week. With the Shabbat Clock, you can watch the weekdays progress to your next reunion with the Sabbath. Throughout the week, glance at your Shabbat Clock and look forward to the golden day of rest and happiness with your family and friends.

Share the anticipation with family and friends as the day of rest, celebration and reflection approaches.

9.5-inch diameter
Choose English or Hebrew days
Markers indicate midnight and noon
Mahogany wood frame and glass cover
Battery operated (one AA, not included)
Quiet operation
Shabbat Clock helps to keep my focus all week long
I was very happy to receive my Hebrew Shabbat clock. I am a recent convert and this will be a point of focus in my living room. It will help me to think about Shabbat each day as I go through the evening in anticipation. The design of the clock is very pleasing; the mahogany is finely polished. The face of the clock is clean and pleasing to my eye. It is a great addition to my home and will be surrounded by many of the pictures I have taken during my visits to Israel. You would do well to add one to your home.
Countdown to Shabbos clock
Cute novelty. Fun to have as long as you are ok with the fact that you'll constantly be adjusting the clock for changing sunset times. Only reason I don't give it a 5 is the stodgy style, but it works fine.