Kosher Mezuzah Parchment Scroll (Klaf)
Secure Checkout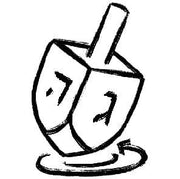 Easy Returns
Quick Shipping
Description

Kosher Mezuzah Parchment Scroll (Klaf) written by an Israeli scribe (called a Sofer Stam in Hebrew). Choose from Size 7, which is 2 3/4  x  2 1/2 inches or 7cm or size 10 which is 4 inches or 10cm. Size 7 mezuzah scroll will fit most mezuzah cases. 

This is the scroll that is put inside the mezuzah cases. It is the scroll, not the case, that is holy. It contains the Jewish prayer, the Shema, beginning with the phrase: "Listen, Israel, the Lord is our God, the Lord is One." Mezuzot are placed on entry doors to fulfill the Biblical commandment to proclaim the Shema "on the doorposts of your house and on your gates."

These are Ashkenazi style - written on animal skin without bleaching so the natural beauty of the skin shows through.

The terms: basic or upscale refer to graded levels of excellence. Basic parchments meet minimal requirements. Upscale is a more advanced level of craftsmanship approved by all rabbis. All kosher scrolls are written by an experienced Israeli Sofer (scribe). These scrolls are beautiful, legibly handwritten and meet stringent standards of Kashrut. Each scroll is checked both by a second Sofer and upscale scrolls also by computer at a special institute in Jerusalem.


It is traditionally believed that the Mezuzah scroll protects the household members physically and spiritually. Therefore it should be clearly handwritten by a professional scribe on a Kosher animal parchment. All these criteria make the scroll kosher. 

 
Shipping Info

Free shipping on U.S. orders $75+
Standard orders typically ship in 1-2 business days from our Ohio warehouse and take 3-10 business days to arrive.
Expedited shipping is available and ships the same day if placed before 11:00AM ET.
Easy returns within 30 days of purchase
Batteries/ Klaf Needed
Was perfect for the mezuzah with which it was given. Giving a mezuzah case without the klaf is like giving a battery operated toothbrush without the batteries. It just doesn't work!
Looked as pictured
The scroll is beautiful and legible. I felt like I was buying from a reliable source at a very reasonable price (I looked around). I was on the hunt for a small size. I didn't take a photo of the scroll itself, but it's in here and we finally hung up our mezuzah!
Nice scroll but hard to roll up
The scroll was printed beautifully but was too thick to roll up. It was very difficult to fit inside the Mezuzah cover, especially when the word "Shadai" must be shown on top.
Well Crafted Klaf
Beautifully written. Will order more as we get closer to closing on our new home.