Yamaclaus - Chrismukkah Santa Claus Hat and Yarmulke Mashup
Secure Checkout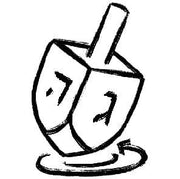 Easy Returns
Quick Shipping
Description

Yamaclaus is exactly what you'd think - a Santa Claus-themed yarmukle! 


Whether you celebrate Christmas, Hanukkah, or the hybrid 'Chrismukkah', this comfy and fashionable one-size-fits-all headcap will bring joy and laughter to your holiday celebration. Yamaclaus is the perfect Chrismukkah gift, Festivus cop out, or simply a stylish way to keep the crown of your head warm. One size fits all, so your pious pets will love them too!
Straight from The O.C.'s design
The yamaclaus is perfect for my fiance who has watched The O.C. (since Lindsay made them in season 2) and is getting a Hanukkah starter kit for Christmas this year (his first yamaclaus and his first menorah - the menorahsaurus rex!)
Haha love the OC Hanukkah Starter kit!!
Best present ever
These are hilarious, and bring a smile to anyone with a sense of humor.
Glad you love them as much as we do! Fa-la-la-la-latkes!