Yahrzeit Memorial Candleholders by Yair Emanuel
Secure Checkout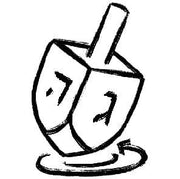 Easy Returns
Quick Shipping
Description

These stainless steel memorial candleholders by Yair Emanuel come in gold or silver.  It is tradition to light a memorial candle in memory of a loved one on their yahrzeit. Candle not included.

Size: 2.5" diameter x 4.75" tall
Designed by Israeli designer Yair Emanuel

Do not leave any lit candles unattended. 
Shipping Info

Free shipping on U.S. orders $75+
Standard orders typically ship in 1-2 business days from our Ohio warehouse and take 3-10 business days to arrive.
Expedited shipping is available and ships the same day if placed before 11:00AM ET.
Easy returns within 30 days of purchase
More about Yair Emanuel
In his studio located in Jerusalem, Yair Emanuel designs various Judaica products. His designs are based upon a fusion of traditional motifs and ancient Jewish manuscripts with modern and oriental art.
Vivid and harmonious colors as well as a mixture of the old and the new, characterize Emanuel's work. He uses many different techniques including hand embroidery, painting on wood, painting on silk and a variety of metal designs.
Subtle, within reach, a constant reminder, the proper candle can burn 12 hrs
I see sadness everywhere, not just on those days when one of my relatives dies, or when the Yahrzeit for one of my relatives cycles. I feel like i want to actively mourn when there is a mass shooting, or the loss of someone dear to me but not bloodline related to me. This Yahrzeit candle holder strikes the right balance for me. I keep it on my desk. It doesn't make me feel like I am wallowing in sadness, or that i am morose, but rather, that i am contemplative and appreciative of those whose lives ended before mine. If you purchase the proper height tea-light (which you insert into this candle HOLDER), the flame can last 12 hours or more, and to me, as I sit at my desk typing, it is a reminder that I am alive, and I am grateful. I for sure use the Yahrzeit candle on shabbos, because i already have matches and other candles out --- so I light a 3rd candle, which burns a little longer than the others and keeps me company as the dusk gives way to darkness. The item is not flashy or showy, and that is why i like it. It is small, subtle, and (if you choose to keep it nearby) always within reach. Since I see (at the time i am writing this review) both the silver color and the gold colors are sold out, Yair, permit me to make this observation: Consider making this item is a non-reflective metal, such as pewter or bronze or iron. I think the holder should recede and the candle flicker should be the attraction. My 2 cents.
Love the yahrzeit candle holder
It is simple in design but yet it is beautiful. Thank you!