The Chosen One Game
Secure Checkout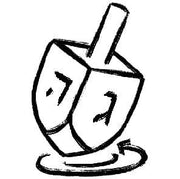 Easy Returns
Quick Shipping
Description

Your favorite Jew-ish game. The The Chosen One Game is simple. Each round one player picks a Question Card. The other players share their best Answer Cards. The funniest pair wins! Makes the perfect Hanukkah gift, or entertainment for Shabbat or other Jewish holiday get-togethers. 

418 Cards in the Set.

Funny-ish Jewish cards

Great for playing with friends and family

Show off how funny you are

Get that girl/guy you always wanted

Make your mother happy

10% of profits go back to Jewish charities

Ages 18+ recommended. Some cards may not be appropriate for all audiences. 

Testimonials:

"Bought the chosen one and brought it to a Shabbat dinner.  Wasn't really sure how it would go especially with my grandma at the table.  It was a huge hit!  My family loved playing it."

- Jennifer M.

"Jewish Cards Against Humanity.  Hilarious."

- Daniel S.
Inappropriate for families
I figured this game would be funny and possibly boarder line appropriate to play with teenagers but I didn't realize how inappropriate it would be to even play with older family members. I had to separate out the extremely suggestive and flat out vulgar cards from the other ones and I was left with just under half of the deck available to use once removing the cards. Some were so vulgar that I didn't even feel comfortable reading them to my parents and I'm in my 40's. I wouldn't recommend this game to anyone who will be playing it with family of any age.
the chosen one game
No review yet, bought it for a Hanukkah gift for one of my (adult) children.
Won't know before Hanukkah is over
Great Shabbat game
Bought this game to play with friends after Shabbat dinner. We played for about 45 minutes. The quality of the game was really good, and the cards were actually funny! A good mix of jokes. I had to look some up since I didn't grow up very Jewish but that was pretty interesting. Will play again.