Terrazzo Concrete Matchstick Holder/Strike - Cobalt or White
Secure Checkout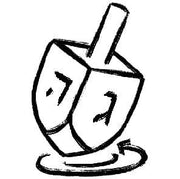 Easy Returns
Quick Shipping
Description

Pretti.cool's terrazzo concrete matchstick holder not only holds your matches, but also provides a perfect surface to light your strike anywhere matches on. You could say it's quite a "striking" piece. Perfect to hold your Shabbat and Hanukkah matches. Matches not included.

Materials: concrete & recycled glass w/ a cork base

Dimensions: 2.5" w x 1.875" h

Our concrete work is all individually hand cast from custom made rubber molds.

Colors are integrally mixed into the concrete and results in each piece being unique.

Although the sealer is food grade and safe we don't recommend using these for direct food contact.

Natural voids occur during casting and some pieces will have very small pin holes.

Do not submerge in water. Wipe clean with mild soap and water.

Made in United States of America
Beautiful yet doesn't strike matches.
Love how this looks. You cannot strike a match with this so defeats its purpose
Terrazzo Concrete Matchstick Holder/Strick
We love the way the matchstick holder looks, but after many failed attempts to strike a match, we had to buy everstrike matches, which are not easy to find anymore. Those work better, but it's still challenging to ignite the match and takes 5-8 swipes.
It's really nice and handy. But it doesn't work as a striker.