Swarovski Star of David Beaded Bracelet - Turquoise
Secure Checkout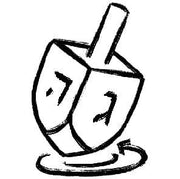 Easy Returns
Quick Shipping
Description

Introducing the stunning Swarovski Star of David Beaded Bracelet in a gorgeous turquoise hue!

The artisans have lovingly crafted this bracelet with a combination of cotton, cork, and suede leather, creating a unique and versatile wrap design that can also be worn as a 16" choker necklace!

The centerpiece of the bracelet is the iconic Star of David, embellished with sparkling deep blue Swarovski crystals. 

Handmade in the USA, each bracelet is a unique creation, crafted with love and care. You can feel good about wearing it, knowing that it's made with high-quality materials and ethical practices. With a size of approximately 7", it also fits most wrists comfortably and is perfect for everyday wear or special occasions.

Treat yourself or someone special to this one-of-a-kind Swarovski Star of David Beaded Bracelet in turquoise. It's the perfect accessory to add to any outfit, and a meaningful way to celebrate your faith and love for Jewish culture.

Handmade 
Made in the USA  

Size: 7"

Turquoise 

Materials: cotton, cork, and suede leather, brushed stainless steel, Swarovski crystals. 

Note: Bracelet size is *not* the same thing as bracelet length. SIZE is the inside circumference of the item. To measure your bracelet size, take a fabric measuring tape or string and wrap it around the widest part of your wrist, usually the wrist-bone. Wrap the tape snug or loose depending on how you want the finished bracelet to fit. 
More about My Tribe by Sea Ranch Jewelry
My Tribe is a unique line of Judaica with boho, tribal and casual vibes from Sea Ranch Jewelry.​ Designer
Karen Anderson proudly handmakes each piece in Maine, USA. She takes pride in creating beautiful,
hypoallergenic and fair-trade coastal jewelry at price points that work.