Silver and Brass Leaf Menorah
Secure Checkout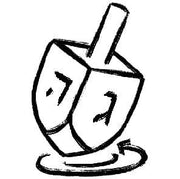 Easy Returns
Quick Shipping
Description

Imagine the warm glow of the candles against the elegant backdrop of silver and brass, with this Silver and Brass Leaf Menorah. The intricate leaf design, inspired by the beauty of nature, adds a personal touch to your holiday decor, bringing a sense of connection to the natural world.

As you light each candle, you'll feel the rich history and meaning of Hanukkah come alive in your home. This menorah is more than just a piece of decor; it's a cherished part of your family's traditions, a reminder of the enduring spirit that lights up even in the darkest of times.

Made in the USA

Color: Two-tone silver and gold brass
Dimensions: 7" x 7" 
Material: Brass and shiny nickel
Designed for use with 3/8" diameter Hanukkah candles

For your safety, please remember to never leave lit menorahs unattended. Always extinguish candles when leaving the room. Keep a close watch and ensure a responsible adult is present when the menorah is lit.