Set of Two Dreidel Drip Trays by Barbara Shaw
Secure Checkout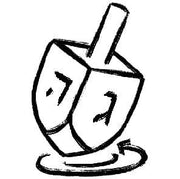 Easy Returns
Quick Shipping
Description

We all love the Hanukkah candle lighting. Family gathered around celebrating the most beloved Jewish holiday. But what we don't love is that pesky candle wax getting everywhere and damaging our mantelpiece or table. Don't worry though, this Hanukkah we got you covered with our set of two beautiful laminated Hanukkah drip mats. They clean easily, are compact and easy to set up and are absolutely stunning and go along with any type of menorah.

The drip mats, one in red and one in blue are outlined with a beautiful dreidel design with the red reading: "hanerot halalo kodesh hem"-These candles are blessed in Hebrew and the blue reading "Happy Hanukkah" in English. 

Place the Menorah on this useful drip mat as part of the holiday décor, instead of the unsightly aluminum foil. Size 12.5 X 9 inches. Great way to protect your window sill or Hanukkah table. Laminated small placemat, easy clean.

HANDMADE laminated printed in Jerusalem in our own ethical all-woman workshop. Made with love and care. Perfectly sized for average-sized menorahs.

Never leave lit candles unattended.
More about Barbara Shaw
Barbara Shaw's passion is to artistically present Israel and her Jewish roots in a fresh, creative, and fun way. She loves fusing the ancient with the contemporary. She likes her ranges to have an international feel, yet with a look that says it could only have been produced in Israel.
Barbara grew up in Sydney, Australia and came to Israel in 1986. After searching for gifts and not finding what she wanted, she decided to produce her own. She saw a gap in the market for bold, well designed and packaged gifts; items that are practical and beautiful.
All products are made ethically in her workshop in Jerusalem. Her aim is to touch people's hearts and strike a chord with their heritage and family background.
Much nicer looking than tin foil
It was hard to walk away from the traditional foil under the menorah but this looks so much better. I was glad to find something that would fit under the entire menorah to catch all the drips. The drip tray cleaned off fairly easily under hot water.
genius!
How did I enjoy over 60 Hanukkah seasons without a drip tray? I can now save my aluminum foil for cooking! Thank you ModernTribe!!