Rainbow Bagel Making Kit
Secure Checkout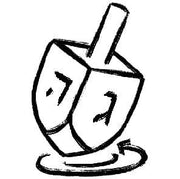 Easy Returns
Quick Shipping
Description

With the new FarmSteady Rainbow Bagel Making Kit, you can now create vibrantly-swirled rainbow bagels in your own kitchen. Delightfully playful with a perfectly crisp bagel crust, cut them open to reveal an amazing burst of color for homemade bagels that are almost too beautiful to eat. Perfect for brunch or Yom Kippur break fast as part of our Rosh Hashanah gift collection.

Building on the accessibility of the popular FarmSteady Everything Bagel Making Kit, these rainbow bagels are easy to master and bagel-shop quality. Making your own bagels is just so much fun, and making rainbow bagels is totally next level—especially when enlisting helpers to join in on the activities.

All the ingredients in the kits are good for 12-18 months.

Included in the Kit:

Baking Mix
Baking Yeast
Red, Yellow & Blue Liquid Gel Food Coloring

6.5" l x 6.5" w x 4.5" h
Delicious and fun!
I got these for my daughter who has an egg-allergy. It was a ton of fun together and they are a great option to make with children. The bagels are pretty easy to make AND taste great :) They work well as a gift or just for something special.
Great gift!!!
So much fun and easy to make!
Adorable gift!
I gave this to my niece for her 5th birthday and she was thrilled. Can't wait to see how they turn out!
Fun idea for all ages
I ordered two kits and both young recipients were absolutely delighted with the opportunity to make their own colorful bagels.
What a fun idea for all ages!