Pet Rhinestone Rectangular Mezuzah
Secure Checkout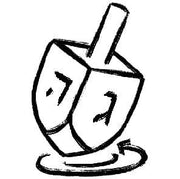 Easy Returns
Quick Shipping
Description

Stainless steel Pet Rhinestone Rectangular Mezuzah! Perfect for your MOT pooch. Non-kosher scroll included. 

The square shaped amulet measures 1.15" tall by 0.23" wide. 


They come with a jump ring and a key ring to use on any pet collar or as a key chain. It can also be worn on a chain as a necklace. The scroll is ½ inch square and is secured inside with a rubber O-ring.