Oshia Kiddush Cup by SaltwareDesign - Gold
Secure Checkout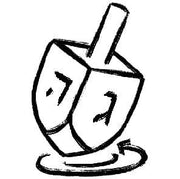 Easy Returns
Quick Shipping
Description

Oshia
Hebrew-'אָשְׁיָה'
Basis, fundamental, element, source
A phrase to describe a highly ranked personality.

Modern elegance meets nature, with this kiddush cup made of different salts from the Holy Land combined with natural earth pigments and a metalhead cup. Head cup is made of fine anodized aluminum. Salt grains are transformed into beautiful and durable marble-like solids. 

This set is eco-friendly with no artificial additives.

Kiddush Cup Measurements:
Height: 8.25" (21cm)
Top diameter: 2.7" (7 cm)
Bottom diameter: 2" (5 cm)

CARE INSTRUCTIONS:
Simply wipe the pieces with a damp cloth.
Do not put the parts made from salt under running water or in the dishwasher.

All artifacts are uniquely hand-made in Israel and can therefore differ slightly from each other.