Orra Candle Holders by SaltwareDesign - Silver
Secure Checkout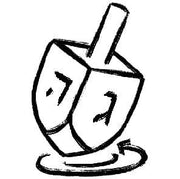 Easy Returns
Quick Shipping
Description

Orr

Hebrew 'אֽוֹר'

feminine form-light

Modern elegance meets nature, this pair of contemporary candlestick holders are handmade of pure salt from the Holy Land. With a sleek design, it's a wonderfully unique piece and makes a wonderful wedding gift.

Saltware candle holders are made of salts from the Holy Land combined with natural earth pigments. The salt crystals make a special effect of translucent light that gives warmth and softness. The salt grains and transformed into beautiful and durable marble-like solids. 

The product is eco-friendly and bio-degradable. Handcrafted in Israel. Each candle holder is individually handmade so there might be slighter differences of one to another.

The candles holders base is wide and can be used with various sizes of candles
( diameter up to 0.8'', length up to 5.5'' ).



Height: 5.9" (15cm)
Diameter: 2" (5cm)

CARE INSTRUCTIONS:
Simply wipe the candle holders with a damp cloth.
Do not put under running water/dishwasher or in an environment above 75% humidity.
ORRA should be used with non-dripping candles, preferable natural beeswax.