Origami Dreidel Vase - White
Secure Checkout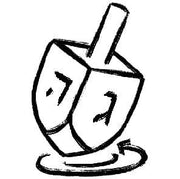 Easy Returns
Quick Shipping
Description

Origami! Dreidel! Vase!

It's a lot simpler than it sounds--a team of artists created a beautiful vase that functions as a dreidel (yes, it spins and everything). The vase itself is a beautiful blend of mountain and valley folds in a white glaze that's sure to liven up any space.

The spinning top has four letters embossed on its four sides: 'Nun', 'Gimel', 'Hay' , 'Shin', for : "Nes Gadol Haya Sham", which means "A great miracle happened there".

SIZE: 3.6 " X 3.6 " X 3"

Handcrafted in Israel.