Naughty, Nice, Jewish Hanukkah Candle
Secure Checkout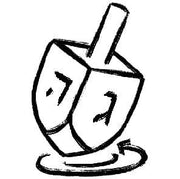 Easy Returns
Quick Shipping
Description

Get ready for a Hanukkah celebration with the Naughty, Nice, Jewish Hanukkah Candle. The scent is of a cozy fireside, reminiscent of the warm glow of a lit menorah on a crisp Hanukkah night. It's the essence of tradition and celebration, all captured in one delightful candle.

Lighting up the night with a mix of naughtiness and niceness, the very definition of the Jewish Chutzpah! This candle is the perfect Hanukkah gift. Whether you're on the naughty list or the nice list, be proud you're on the Jewish list.

Made in the United States
Dimensions: 3.3" x 3.3" x 3.5"
Hand-poured in a North Carolina home
Committed to clean-burning candles for health and the environment
Crafted with 100% organic soy wax and organic cotton wick
Free from harmful chemicals and toxins in scent blends

Do not leave lit candles unattended.